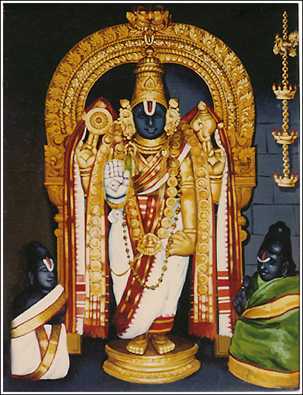 Divya Desam

Tiruvahindrapuram, Ayindai, Phanipati puram, "Town of the Serpent King", i.e., Adisesha.

Perumal

mūlavar

Devanayaka; Dēvanâtha

utsavar

Achyutan, Sthirajyoti, Aneka Jyoti, Mevu Jyoti, Vaikunthanathan, Vevvinai Marundu, Moovar aagiya oruvan, Adiyavarkku Meyyan, etc.

Thâyâr

Hēmâmbuja Nâyaki, Ambhuruvasini, Hēmâbja Nayika, Bhargavi, Vaikunthavalli, Senkamala Valli, Mahavara Prasadini

Alvar mangaḷâśâsanam

Vimanam

Suddha sattva, Chandra

Tirtham

Garuda and Sesha at the foot of the hill; Bhumi, Brahma, and Thâyâr tirukkuḷam atop the hill

River

Garuda Nadi

Facing

East

Posture

Standing

Pratyaksham

Chandra, Garuda

Agama

Vaikhânasa. All six kâla pujas are performed.
Rama, Venugopala, Chakrattalvar, Pallikonda Perumal, Rajagopalan, Lakshmi Narasimhan, Aheendrapuranathan, Andal, Garuda, Vishvaksena, Alvars, Acharyas, particularly Sri Vedanta Desika.