History and Religious Significance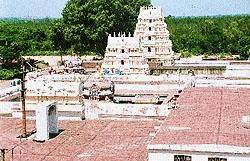 Over the years, kings of the Pandya, Chola, Pallava, and Vijayanagara dynasties contributed to the construction of various parts of the temple, as attested to by its structure and several inscriptions. The shrine was a significant one, and is edified by the benediction of Tirumangai Alvar. The saint has composed 10 verses on Lord Devanayaka. The temple seems to have been built in stages. According to inscriptional and stylistic evidence, the temple Prakaras were built by the Pandyas. The structure of the roof slabs and the base of the small gopuram show characteristics of the late Pallava period. Near the dvara palakas are inscriptions mentioning kings of the Chola dynasty.
This kshetram was important enough to be mentioned by three Puranas — the Brahmanda, Brhan-naradiya, and Skanda.
Sthala Purana
Tiruvahindrapuram, situated 5 km west of Cuddalore, the historic coastal city, is one among the two "nadu naattu thirupathigaL" among the 108 Divya Desams sanctified by the visit of the Alvars. The temple of Lord Dēvanâtha is flanked by the inspiring Aushada Giri, a herbal drop on the Lap of Time from the hands of speeding Anjaneya to the battlefield of Lanka and the serpentine holy river Garudanadhi. The importance of this sthala has found place in many Puranas.
Tirumangai Alvar has hailed the presiding deity of this temple as the Godhead of Trinity, viz. Siva, Brahma, and Vishnu (moovar aagiya oruvan). True to the appellation of "adiyavarkku meyyan", Lord Dēvanâtha's charm and power attract thousands of pilgrims day in and day out from all over the country.
The structure and inscriptions found in the temple bear testimony to the association of later Pallavas, Chola and Pandya dynasty rules.
Legend has it that when Lord Dēvanâtha was feeling thirsty he asked for water. Garuda made Garuda Nadi by ploughing the earth with his beak and Adisesha did so by carving the earth. Adisesha was first to come back with water and the Lord quenched his thirst with that. On seeing this Garuda was sad and to cheer him up, the Lord chose water from Garuda Nadi for his thirumanjanam (holy bath) and from Sesha Tirtham for nivedanam (offering).
Since the place was constructed by Aheendran (Adisesha), it is called Aheendrapuram. The body of water brought up by Garuda flows as Garuda Nadi, whereas the one brought by Adisesha is available as Sesha Tirtham.
People offer pepper,salt, milk, honey, turmeric and others into the Sesha Tirtham as part of their prayers and still it is indeed a divine wonder that the water is used for preparing the daily nivedanam to the Lord.